It became very clear the last time my partner came home from a month away that the space we live in is small. A fine size for living but too small to meet all the expectations placed on it. Two floors totaling approximately 450 square feet serve as kitchen, dining area, living area, bedroom, art studio and office. The cabin is shaped like a hexagon, which comes with drawbacks and benefits both. The plan was to build a studio this summer, separate from the house, basic and usable, if not fully finished. Finishing could come over time.
I picked the spot, cleared it and mapped it out and made forms for casting the concrete pads.  Everything was moving forward. Then, on a whim, we took a walk around the land, casually talking about what we wanted to create and a couple of things became clear. One was the large fir tree leaning precariously toward the cabin. We had it cored, were alarmed to find rot and decided to deal with it rather than wait for the winter winds to bring it down upon our heads. We looked at the area cleared for the studio and thought that it might be a perfect place for fruit trees. We found the garden could be expanded and the pond made bigger and the studio could be above the workshop. We quickly realized we needed a plan and did not have the time to make one.
So what does one do, caught between the need for a place to make art and the need for serious planning before building anything? Find a suitable, portable studio space: the Airstream.
I know that plenty of Airstream enthusiasts balk at the idea of taking one off the road and condemning it to a sedentary existence. I tip my hat to those people with their free-wheeling ideals. May your adventurous spirits be well met. Know that I have no less appreciation for my Airstream. When I look at this 1963 22 foot Safari Land Yacht, I see a wonderfully designed object, curved in the right places and unexpectedly spacious. I imagine making it warm and functional and a vehicle for creativity. While it might not be traveling down the asphalt, it will allow me to go all kinds of places. It makes my heart sing.
Here are the before pictures: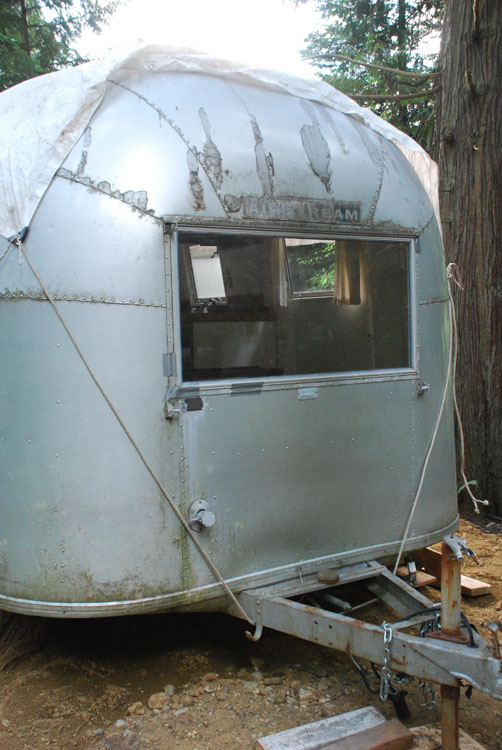 The outside needs a good cleaning and the plastic coating is peeling off in places – this is easily dealt with. Most importantly, the shell is sound.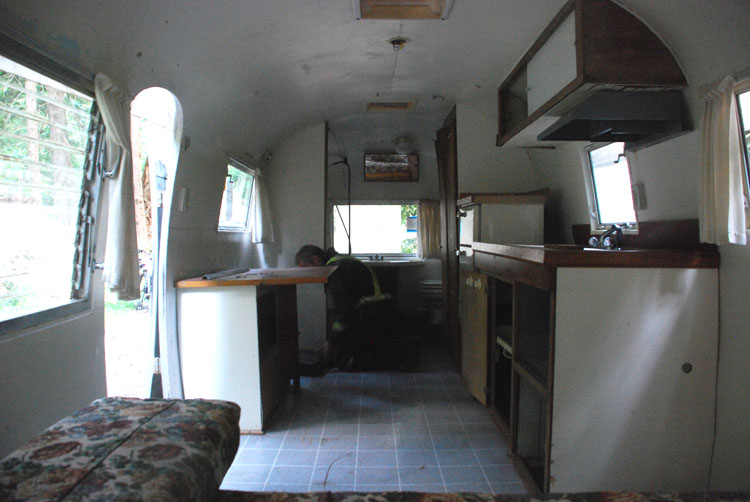 We are about to begin tearing out the inside. (Actually, I am resting but the others involved are enthusiastic to take it apart. My job, for now, is to undo a few screws and be a consultant. There will be plenty to do once my head has healed.)
Here are the first in process pictures: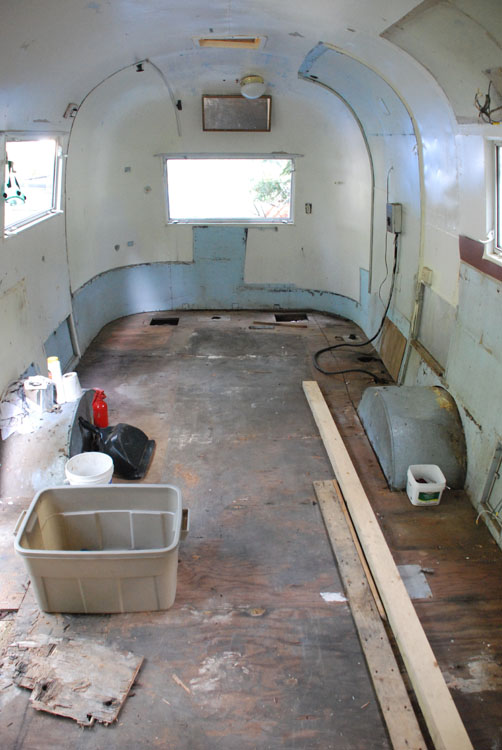 It doesn't take long to get everything out. There are a couple of places where condensation has caused the floor to rot. There, the plywood will be replaced and new flooring put down throughout. The walls will be prepped and painted and the furniture constructed.
I am particularly fond of the built-in shelf.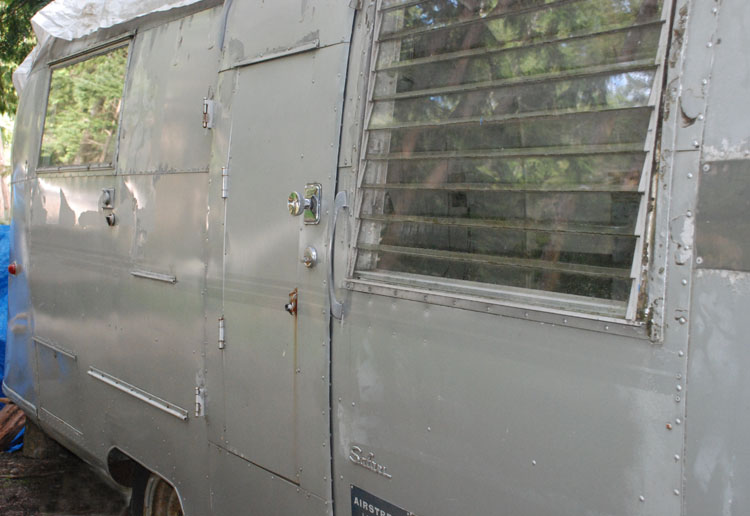 More to come as the project continues. Much gratitude to Carson, and especially to Ian.