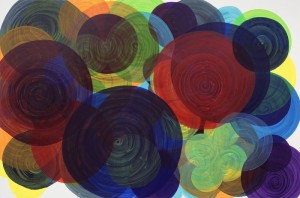 I stumbled into a bookstore last Saturday while in Santa Cruz. I went in on a whim looking for A Pattern Language, which I did not find. However I found something that has left me vibrating with excitement. I am exploring colour and form, and the spiritual intention or esoteric thinking in artwork and how Rudolf Steiner's ideas about art are manifesting in the 21st century. I am writing a paper about these themes and as part of this paper, I am researching artists who are working out of this place in some way. I walked into the bookstore and sitting on a display shelf to the left of the counter was this book.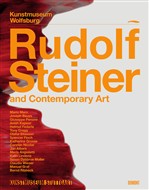 The book is one that goes along with an exhibit of the same name, which has just ended at the Kunstmuseum in Wolfsburg and will start in February 2011 at the Kunstmuseum in Stuttgart. It contains interviews with the artists who are participating in the exhibit, ranging from established artists like Anish Kapoor and Tony Cragg to younger artists like Meris  Angioletti. Much has already come out of my short time with this book. My thoughts are cascading.
I would like to introduce the work of Katharina Grosse. When I first saw her work in this book I had a visceral reaction. Her use of colour seems random and chaotic, almost alarming, and she paints on unexpected surfaces, completely immersing the viewer in both the colour and it's absence. I felt like I was trespassing yet somehow this trespass was sanctioned or intended. My experience was thorough, and deep, and this is only through photographs in a coffee table-sized book. I can only imagine what would transpire  if I were face to face with one of her installations. Here is a video of her talking about, and making, her work.
I am considering her as one of the artists I focus on. I am curious about how others experience her work so feel free to comment. In the meantime, I will dream of visiting Stuttgart in February.
We cannot come to ourselves without the other.